Our Lady Of Lourdes Newsletter - Term 1, Week 4, Wednesday 17th February 2021
Filter Content
Our Lady Of Lourdes Newsletter - Term 1, Week 4, Wednesday 17th February 2021
Mrs Janice Moore / Ms Angela Gilbert / Mrs Sarah Jackman
Mr Garry Birch / Mr Chris Golightly
Dear Parents & Carers
Hard to believe we are nearly at the halfway mark of the Term! But what a great start to the new school year. The students have settled into the routine exceptionally well and now that most of our extra-curricula activities have commenced, school life is set to get even busier. The great start has a lot to do with you, the parents. It is obvious you have made sure your children are well prepared for school each day and speak positively to them about the many exciting things that they can experience and the importance of a quality education. This gives kids a head start. Leaving home with a positive mindset about learning goes a long way to ensuring they have a top day at school. The teachers and support staff also deserve recognition. Their efforts in preparing learning experiences, a welcoming and caring environment and willingness to offer extra-curricula opportunities, provide a structure for maintaining a supportive school culture.
At the Parent Information sessions, I took some time to inform you of some of the major things that are planned for the 2021 school year. The majority of initiatives are a direct result from the feedback received in last year's School Renewal and Improvement Process. Your responses went a long way in assisting us develop our Strategic Plan for the next four years.
While these are important projects, I also spoke about the need for parents to be involved in their children's schooling. There is plenty of research that shows the direct link between success at school and the level of parent involvement. I do not mean parents have to be at the school every day of the week to be seen as involved. Your involvement can be in a variety of ways. Taking an interest in what is happening in the classroom, assisting with homework, reminding children of upcoming events, ensuring the correct uniform is worn, attending as many school/classroom events as possible, celebrating successes along the way, talking positively at home about learning and teachers, volunteering whenever you can, coming along to fundraising or social events…. the list is almost endless and nothing on the list is too difficult to do.
Children just love seeing their parents being present and involved and from personal experience as a parent of three kids, their years at primary school will go by in a blink of an eye….so don't waste this time…get in and enjoy the little things because one day you will look back and realise that they were the big things. It's the little things in life that matter.
What makes us remember things is how we felt at a particular time. If children have a positive and enjoyable experience at primary school, the odds are that they will carry this forward to secondary school and then one day hopefully provide their children with a positive attitude towards school.
Children will remember how the important adults treated them; how they listened to what they had to say; how they established clear rules and boundaries; how they were fair but firm; how they knew how to have fun together and with us; how they modelled respect to one another; how our parents and teachers praised us for our efforts rather than our results. And if parents and teachers don't do these things, then, they'll remember that instead.
There is no doubt that we as parents and teachers are a very important influence on the degree to which our children will have a healthy self-image. The memories we give our children to take forward in their lives, will be based, in great part, on the type of influence we provided.
Welcome BBQ & Disco
To provide an opportunity for the school community to come together for a social occasion, a beginning of the year welcoming BBQ and Disco for all families will be held this Friday 19th February from 5:30 p.m. to 8:30 p.m. Please note that all children are required to be supervised by an adult throughout the evening. Entry to the disco and sausage sizzle is complimentary. Steak burgers will be available to purchase for $5. A bar and light refreshments will also be available. Look forward to seeing you all there.
Leadership Assembly
Tomorrow, our Year 6 students will receive their leadership and school captaincy badges at a special leadership assembly. Mr. Marty Savage – Senior Education Leader from the Toowoomba Catholic Schools Office will be our special guest. Please note that this assembly will commence at the earlier time of 2:00 p.m.
School Fees
Due to a recent introduction of a new financial management system in all Toowoomba Diocesan schools, the generation of school fees for families has been delayed. Time is being dedicated to ensuring information has been successfully migrated from the old system. School fee payments can be made prior to you receiving your invoice. If you are unsure of what the school fee amount is, please contact the front office.
Volunteers
Parent and grandparent volunteers are vitally important for the successful operation of many school operations and events. Without the help of volunteers, we could not begin to offer a number of the opportunities available at the school. All volunteers however are required to be registered at the school. Please keep any eye out for information from the school in relation to what is required if you wish to be a volunteer. I personally thank you in advance for your valued support.
 P&F Association
The Annual General Meeting of the Parents & Friends Association was held last night. It was great to see so many new faces at the meeting. Don't get me wrong….it was good to see the old ones as well! The P&F at Lourdes has always provided wonderful moral and financial support for school endeavours. Meetings are always conducted in good spirit and more importantly are pretty short!! A cordial invitation is always extended to all parents, especially any new families who would like to become a little more involved in school life.
For further information, please refer to the P&F report in our fortnightly newsletters. P&F meetings are held on the third Tuesday of each month. For your convenience, meeting dates have been included in the school calendar which all families received during the first week of term.
Executive members of the P&F for 2021 are: Ross Haylock (President), Mandy Ryan (Vice-president), Maria Morcom (Secretary), Vanessa Pohlner (Treasurer) and Chris Golightly (Principal).
Cross Country/General Fitness Training
Our annual morning fitness program commenced this morning. These sessions will be offered for any student in Year 3- 6 every Wednesday and Friday mornings 7:30 a.m. at Newtown Park (weather permitting). Students may wear their sports uniform on the Wednesday if they attend the training sessions. The students will be accompanied back to school by the supervising teachers at approx. 8:15 a.m. in readiness for class.
Stop, Drop & Go
To assist the teachers on duty at the stop, drop and go zones, it would be appreciated if you could display your family name either on the visor or dashboard of your car. Not all teachers recognize parent/grandparent faces or the make of vehicle. Having the kids ready on the footpath greatly improves the efficiency of these zones.
Late Arrival at School
All students who arrive late for school must report to the front office prior to going into class. In saying this, all possible effort needs to be made to ensure children arrive at school with plenty of time to be settled and organised for the day ahead. Late arrival does disrupt learning and places the child who is late at a disadvantage as they miss important information of what is required and instruction of what needs to be done. An organised start to the day provides valuable support for your child and the Teacher.
Swim Squad
Congratulations to all students who recently represented the school at the recent Catholic Schools & West Zone swimming carnivals. Your conduct and performances were impressive and you all proved to be wonderful ambassadors of Our Lady of Lourdes. Special congratulations to those who were selected in the West Zone Team which will compete at the Darling Downs Championships on Wednesday 3rd March.
Building Project
If you were at the Parent Information nights you would have heard the great news about the major building project. Thanks to our successful application for a Federal Government capital grant of $4.8 million to construct additional classrooms and administration buildings, the school is now in a financial position to proceed with the project which is estimated to cost around $6 million. This project will greatly enhance the character of the school, desperately provide additional learning areas and place Our Lady of Lourdes in great standing for generations to come. Due to the restricted space and limited options in relocating classrooms, the project will be completed in 3 gradual stages over a 12 month period commencing this year's June/July holidays.
The building project will of course provide its fair share of disruption and headaches. The kids will have a ball watching a new school being built, however Teachers' patience will be tested by noise and major changes to routine such as alternate play areas and transitioning around the school. For parents, the use of the stop, drop and go zones will be vital as at times during the construction, access to the site will be restricted. Short term pain for a long term gain will be our mantra and your patience and understanding throughout the building project will be greatly appreciated.
If you have any queries in relation to the building project, please do not hesitate to pop in and see me. I am more than happy to sit down and go through any questions you may have. We do have some preliminary plans which again I am more than happy to show you. Once these have been finalised, a number of displays will be set up around the school for your perusal.
Thanks for reading…..
Chris
Absentees, Sick-Leave, Appointments and Illness
If your child is unwell and not attending school please notify us of their absence either by phoning the Administration Office on 4591 1200, or email the Administration Office (lourdes@twb.catholic.edu.au) and their class teacher by 8:30am.
If your child arrives at school after 8:30am, you must visit the Administration Office to sign them in and obtain a late arrival notification for the teacher.
In the event you do have to remove your child throughout the school day, please ensure you visit the Administration Office to sign them out, and don't go straight to class to remove your child.
If your child becomes ill at school, we will call you or your emergency contact so that your child may be taken home. For this reason, please keep all contact details current.
If Children are unwell with any contgious illness they MUST be excluded from school until medical consent for their return has been provided by their Doctor. Please refer to the standard exclusion periods advised by the Queensland Government "Time Out" information sheets located at the bottom of this article.
Parents will be contacted as soon as possible if their child has been involved in an accident during the day. There are first aid officers within the school who will assist the student until their parents arrive.
MINOR INJURIES
First Aid Officers assist the child. In the event your child has a head knock, regardless of how minor, we will be in contact with you either by phone and/or SMS to advise you of the incident. If the head injury is serious, we will keep contacting you until we speak to a parent/guardian.

SERIOUS INJURIES
In the unlikely event that your child has an accident at school which is considered serious enough to warrant urgent medical attention, an ambulance will be called first and parents/ emergency contacts second.

MEDICAL CONDITIONS
If your child suffers from a medical condition such as asthma, allergies, seizures, diabetes, etc, please ensure that an up-to-date action plan from your GP has been provided to the school.
It is important that the school has the most recent and up-to-date plan and these action plans need to be updated yearly to help the school meet your child's medical needs should it be necessary.

PRESCRIBED MEDICATION
To ensure we meet our duty of care obligations, there are a number of policies and procedures that the school is required to follow regarding the administration of medication. Medication can only be administered by staff if labelled by a pharmacist with your child's name and is accompanied by a completed Medication Form. This is required for the administration of both Routine Medication and Short/Term Medication. The Medication form is available from the School Office.
Any medication to be administered at school must be given to the teacher or the school Administration Officer and sent to the office to be kept in a secure area. Only office staff or Leadership Team members can administer medication.

• All medication MUST be brought in in the original packaging with a pharmacy label attached which clearly states the child's name and dosage instructions
• Parents/caregivers MUST complete the relevant medication form which we will keep on file
• We are not able to accept medication delivered in snap-lock bags, or medication that does not meet the requirements listed above, nor are we able to administer medication without the required paperwork completed.

HEAD LICE
It is school policy that children who contract head lice are to remain at home until appropriate treatment has been administered and the lice have cleared. Parents are encouraged to make regular checks of their child/ren's hair throughout the year.
At the beginning of the year, we spent some time with our staff reviewing our important motto to support teaching and learning: Lourdes Learners are CALLed to Think as both a Learner and a Global Citizen. This provides us with a lens to develop the traits of both a learner and a global citizen. We aim for our learners to have the dispositions and competencies that help them navigate a complex, fast-changing 'globalized' world and for students to see themselves as learners who know how to learn.
Exploring themes such as identity and diversity, poverty and wealth, sustainability, and social justice, engages students in real-world issues through the curriculum. When collaboratively planning, teachers consider what is important to be learned, how to foster learning and how we measure success.
The traits of a learner and of a global citizen are exemplified with the acronym CALLed to Think. To be a Lourdes Learner, students need to Communicate, Act, Look, Listen and Think. The following table illustrates how staff can break this down for students. 
Aspiring to build the Lourdes Learner culture across the school, teachers in year level teams were given time at the beginning of the year to consider what each of the traits of a learner and a global citizen would mean for their year level.
Year 1 and Year 2, for example, have developed their own language to begin developing the traits of a learner. They have a classroom display where they focus on different elements (see image below of a Year 1 classroom display). Year 6, on the other hand have begun to look at the first element of our CALLed to Think acronym by focussing on the traits of a learner and global citizen who Communicates. This tied into the teaching and learning within a Health lesson.
Hopefully, parents and families will start to hear this language at home and children will be able to articulate this with more intentional meaning as the year goes on. If you would like any further information, please talk to your teacher or feel free to contact me.
Miranda Murray
Asistant Principal
miranda.murray@twb.catholic.edu.au
Faith & Religious Education News
Yesterday we celebrated Shrove Tuesday. We thank everyone who came along and shared pancakes with us. Thank you to all who donated pancake mix, syrup, plates and serviettes! A special thank you to our Year 6 helpers who came early and helped set up to cook the pancakes. All money raised will be donated to our Caritas Lenten appeal.
Today we had our Ash Wednesday commemoration to mark the beginning of Lent. We received our Lenten Misson Boxes. It would be great if each family could spare 50c on a Friday for our Caritas Lenten Appeal.
This Thursday, 19th February we invite everyone to join us for the Year 6 Leadership Badge Presentation Ceremony in the school hall at 2.00pm. Please come along to encourage our leaders as they embark on their 2021 leadership journey.
Students, who wish to be involved in preparing for their Confirmation and First Eucharist in 2021, need to send in their notes, photo, copy of their baptism certificate and money by Monday 22nd February. The first meeting is on Wednesday 24th February at 3:30 pm in the school hall. Notes have been sent out to those who were interested in preparing for these sacraments. Spare notes can be collected from the school office if you missed out on receiving a note. Please remember the Sacrament of Reconciliation is a prerequisite for these sacraments in our Parish. Reconciliation preparation occurs in Term 3. Any questions or queries can be emailed to Janice.Moore@twb.catholic.edu.au
Dates for your Diary
Wednesday 17th March- St Patrick's Day Green Coloured Clothes day. Please bring a gold coin for our Lenten Mission Appeal.
Thursday 1st April – Stations of the Cross 12 noon – school hall.
Have a blessed week!
Janice Moore
Prep
All Lourdes Learners in Prep have settled in nicely to our routines and are enjoying learning about the Lourdes Way. Thanks for attending our Prep Information evening - a great way to know what's happening in your child's classroom.
Homework has started well but does require adult supervision. We start Lent this week and will begin our Have You filled a Bucket? Program which is the basis of our Religion unit.
We are going to Cobb&Co Museum in March as part of our History unit. Please remember to check satchels each day.
We look forward to seeing everyone on Friday evening at the Welcome BBQ – come along and buy a jelly cup!
Cheers,
Liz and Melita
Year 1
Welcome to Week 4!
Year 1 students continue to settle into their routines, with many beginning to show great Lourdes Learning behaviours and demonstrating what Year 1 at Our Lady of Lourdes looks like, feels like and sounds like.
Students are enjoying our Daily 4 literacy rotations where we combine classes to work with other friends and continue learning in either classroom.
We have finished learning about Gerald the Giraffe. We all wrote great character descriptions and have painted some fabulous dancing giraffes. Come in and have a look!
In Science, we are busy exploring small creatures and their habitats. In a couple of weeks time, we will create a class snail habitat. Both classes will require snails for our tanks. If you find any creeping around your backyards and gardens, please bring them in.
Thanks for reading and have a wonderful week!
Jen and Ange

Year 2
Welcome to Week 4!  The Year 2 students are working so hard and are becoming keen Lourdes Learners!
Our Science unit is underway and we are exploring our wonderful earth and finding out about natural resources. We are learning about the water cycle, our precious minerals and the importance of using our resources wisely. In Maths we continue to brush up on our addition and subtraction number facts, place value and something that we all love, counting money. Allowing your child to have experiences with money, will help consolidate their skills. We have been working hard on our addition strategies such as using friendly numbers to help make addition easier. 
Over the next few weeks we will begin to focus on information reports and will be starting our research of an Australian animal. When we visit the zoo we will be able see many Australian animals, as well as animals from all over the world, which will hopefully inspire us to write about what we have learnt.   
Our excursion to the Pilton Zoo is scheduled for the 16th of March.  A permission note will be sent home shortly and the cost of $21 will be added to your school fees. Parent helpers are welcome! We will need parents to find their own way to the zoo as the bus will be full. Just so you are aware the zoo requires that parents pay $20 at the gate for their own zoo entry.  
Thanks for your support! If you have any queries or questions please do not hesitate to ask.   
Dennielle, Allyson, Sarah, Aleisha and Megan
Year 3
Welcome to Week 4 – we are pleased with how well everybody has settled in and the effort being shown in class. This week, we are exploring place value in Maths, continuing to develop our narrative writing skills in English, investigating how quickly different liquids freeze in Science and we have started to look at Australian celebrations and communications in HASS.
We enjoyed the Shrove Tuesday pancake morning yesterday and reflected on Ash Wednesday during the liturgy this afternoon. During our Religion lessons, we have also been looking at the story of Moses, the 10 Commandments and how they are relevant to our lives. 3G will be presenting the assembly prayer in Week 7 (11th March), 3GM in Week 8 and 3M in Week 9.
A reminder that library borrowing is on Thursdays for all classes and homework is due each Wednesday.
Have a great week!
Angela, Sarah, Damian and Janice
Year 4
Homework started last week, and it was great to see most students working conscientiously and producing their best work. Could you please ensure that your child also completes the Maths Online tasks as this is also a homework requirement? Well done to 4B for their Assembly presentation in Week 2 – very daunting being the first class, but they did a great job. 4L will be presenting next Thursday – Week 5, followed by 4G on the following Thursday.
Thank you to all the families that attended the Parent Information Session on Monday night. If you could not make it, then a copy of the Year 4 Information booklet should have been sent home with your child. Please let your child's teacher know if you did not receive this and we can arrange for one to be sent home with your child. Also, if any parents are interested in joining the Year 4 Facebook page you can search 2021 Grade 4 OLOL Toowoomba. Alternatively, you can contact Sarah Kelly who is our Parent Representative for this page.
The P&F sent home, with the eldest sibling some Raffle Tickets. It would be great if you could sell these tickets and return to school by the end of the month. Additional booklets can also be collected through your class teacher.
Thank you to Mrs Moore who prepared a beautiful Our Lady of Lourdes Feast Day Mass on Thursday. If your child is undertaking Confirmation and Communion Sacraments this year, please read the information in the Parent Information Handbook and make notes of the dates for the meetings. The first Parent Information Meeting is on 24th of February at 3:30pm.
Congratulations to those students from Year 4 who represented the school at the Catholic Swimming Carnival on Wednesday. Bake Attrill, Charlotte Burchardt, Thomas Connolly, Thomas Kelly, Arohamae Fatiaki, Olivia Hancock, Skye Parker and Lucy Sweeney. Congratulations to the students who swam at the West Zone Swimming Carnival yesterday.
Yesterday we celebrated Shrove Tuesday and it was wonderful to see so many people eating pancakes before school. This afternoon we acknowledged the beginning of Lent with our Ash Wednesday service.
Do not forget to let your classroom teacher know if you don't need to purchase a Mass book. As we are now entering into Lent, we would encourage the students to donate 50c each Friday for Project Compassion. As global citizens, we encourage students to make these donations to help other communities that need support.
We hope you all have a great couple of weeks!
Suzanne, Toni and Garry
Year 5
Welcome to Week 4 – has it been a blur or what! We have certainly hit the ground running and the students are impressing us with their willingness to step up to the pace of Year 5.
On Monday we visited Emu Gully and boy, what a day we had. Taking the students out of the comfort zone of the classroom and throwing them into challenging scenarios really brought the best out in them. The growth achieved by exposing them to the opportunity to fail, listen, work collaboratively and to then succeed is priceless. Mr. Golightly mentions it countless times, it is vital to make our kids independent and capable students who are resilient to the challenge's life will throw at them. They certainly have begun taking steps in the right direction.
Thank you to those parents who came to the information night last Monday, it was great to meet a lot of you for the first time and we look forward to working with you this year to support your children's learning.
Last Thursday we celebrated the start of our school year with a beautiful Mass prepared by Mrs. Moore for our OLOL Feast Day. Students showed how they are stepping up by demonstrating reverence and fully participating in the parts of the mass. In Week 5 students will begin attending Mass weekly as part of Religion. If students could bring the Mass booklets given to them in Year 4 it will help them to follow the Mass structure.
Last week was our first interschool sport and from all reports the students had a fantastic time and as always showed great sportsmanship. Do not forget jerseys and all required sport equipment. We highly suggest for those carrying equipment items that you invest in an OLOL sling bag which is $10 from Flexischool app, or use one you already have at home. This will minimise loss and misplacing of items. Can girls please leave all earing, watches, bracelets at home on Fridays, they are unable to wear these during sport and we don't want them lost. If ordering tuckshop remember to select the sports lunch. Refer to the sport section of the newsletter for times and locations if you wish to watch your child play. Please remember that you will be required to follow COVID safe protocols including maintaining social distancing, as well as not coming over to where the students (teams) are. You must watch from a distance.
Stop, Drop and Go: To assist staff in operating these areas could parents please place a card on the passenger visor that indicates the surname of students being collected. This will greatly assist in keeping the flow of traffic moving.
Finally, congratulations to all our swimmers who participated at Catholic Carnival last Wednesday and at West Zone Carnival Tuesday this week!! You did Lourdes proud.
We hope you have a good fortnight!
Tim, Jess and Emily
Year 6
Date Claimers
Friday 19th February – Welcome BBQ and disco 5:30 – 8:30pm
Wednesday 17th March: St Patrick's Day – Green Free Dress. Gold coin for Caritas
Monday 22nd- 25th March: Swimming lessons (more details to come)
At our recent Leadership Day at Treetops Challenge, Mount Tamborine we stepped out of our comfort zones to experience unforgettable high ropes challenges. The day called for our learners to demonstrate resilience, determination, self-awareness and most importantly encouragement for others by working together. Congratulations Year Six on a successful day - learning about yourselves and each other!
Our leaders are serving our school in many ways – thank you to our leaders who helped make Shrove Tuesday a success.
Our leaders know that Together they can achieve more. Thank you for supporting your child as they make the commitment to 2021 school leadership at our Leadership Assembly this coming Thursday.
Round one of Friday sport was enjoyed by our touch, cricket, AFL, and hockey players. All students demonstrated the Lourdes Way when encouraging their teammates to give of their best and act as part of a team.
Executive functioning skills help form habits for life and in Year Six we are encouraging the use of term planners and assessment planners to help plan, organise and manage time. These are important skills to manage daily life and to set up success for future schooling. Our learners are encouraged to set up a study space and refer to their planners to meet due dates for all learning areas.
Over the last two weeks, we have examined how Lourdes Learners are Called to Think and be Global Citizens. Year Six learners know that to be effective communicators, they take responsibility for their work, talk about learning strategies and always clarify information.
Larry, Kylie and Shauna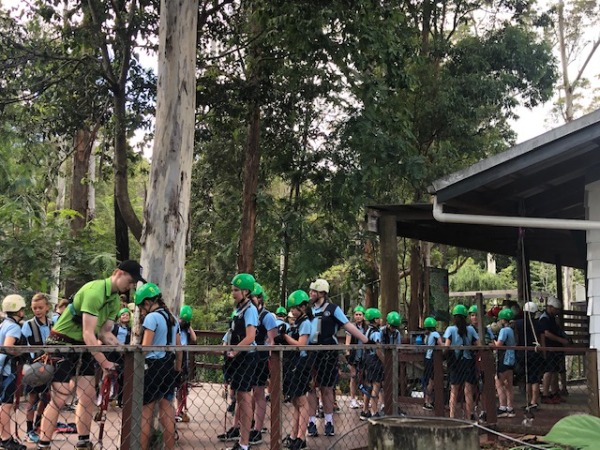 German
This week we will be learning the German Alphabet and next week we will be talking about families. We will continue practising useful phrases in German for the rest of the term.
Christine Fisher
The Hub has changed this year, in more ways than one! We are in a new position in the school (upstairs next to 6M) and we have new teachers working in The Hub.
We bid a sad farewell to Mrs Tague who has worked in The Hub for many years. We will miss Mrs Tague's friendly smile, infectious laugh and kind and caring ways. We wish her all the best as she continues her career at the Good Samaritan College- our loss is definitely their gain.
Mrs Kehoe has returned to The Hub (yes, again!!) and is sharing the role with Mrs Jessen. Mrs Kehoe works every Monday and Tuesday and every second Wednesday, while Mrs Jessen works every Wednesday and Thursday. Mrs Jessen is in Year 2TJ on Fridays.
Since the beginning of the school year Mrs Kehoe and Mrs Jessen have been meeting with class teachers to analyse class data and discuss the needs of the students within the classes. Further assessments are currently being undertaken to pinpoint students' strengths and weaknesses and areas for intervention.
This year Learning Support is following The Response to Intervention Model. This is a three-tiered model for learning and intervention. Mrs Kehoe and Mrs Jessen will provide support across all three tiers – within the classroom, small groups and individuals.
Tier 1 : Classroom Support
The majority of students (80%) succeed in the regular classroom with assistance from the class teacher and school officer. Class teachers use data (assessment results) to monitor student progress and make adjustments according to these results. Teachers record modifications and adjustments in PfPLs (Planning for Personalised Learning).
Tier 2: Small Group Support
There will be a small percentage of students (15%) who require additional support to achieve at the expected level. Mrs Kehoe and Mrs Jessen work alongside teachers and parents to identify these students and to provide intensive, short-term, targeted support. This support is in addition to classroom support provided by the class teacher and school officer.
Tier 3: Individual Support
A very small number of students (5%) require a high degree of support and a team approach from a number of specialists. These students often require an individual program and may be on a Modified Curriculum Plan (CMP).
The Response to Intervention Model has been reproduced below.
Students move between the three tiers according to their progress, consequently, progress needs to be carefully monitored.
This model is not only relevant to academic tasks (literacy and numeracy). It is equally applicable to behaviour, social skills, speech and occupational therapy and counselling services.
Please let us know if you have any queries or concerns.
Until next time….
Mrs Kehoe and Mrs Jessen
Learning is the beginning of wealth. Learning is the beginning of health. Learning is the beginning of spirituality. Searching and learning is where the miracle process all begins. Jim Rohn
Upcoming Dates
| | | | | |
| --- | --- | --- | --- | --- |
| Week | Date | Event | Venue | Who |
| 2 | 04/02/2021 | OLOL Swimming Trials | Glennie Aquatic Centre | Students born 2009/2010/2011/2012 |
| 3 | 10/02/2021 | Catholic Swimming Carnival | Dalby Aquatic Centre | OLOL School Swimming Team |
| 3 | 12/02/2021 | Friday Sport Commences | | Grade 5 & 6 |
| 4 | 16/02/2021 | West Zone Swimming | Glennie | OLOL School Swimming Team |
| 4 | 17/02/2021 | Cross Country Training Starts | Newtown Park | Grades 3-6 |
| 6 | 03/03/2021 | DD Swimming | Gatton | West Zone Swim Team |
| 8 | 18/03/2021 | T Ball GALA Day | Kearney's Spring | Grade 4 |
| 9 | 22-26/03/2021 | 1-6 Swimming Lessons | Glennie | Grades 1-6 |
| 10 | 30/03/2021 | OLOL Cross Country | Newtown Park | P-6 |
| 10 | 31/03/2021 | Gymnastics Excursion | Allstar Gymnastics | Grades P-2 |
Friday Sport Draw – Week 4 & 5
Week 4

19/02/21

SPORT

OPPOSITION

VENUE

COURT/
FIELD

TIME

Touch Senior A Girls

Kearney's Spring

1:45pm

Touch Senior Navy Girls

Kearney's Spring

1:00pm

Touch Senior Sky Girls (2)

Kearney's Spring

1:00pm

Touch Junior A Girls

Kearney's Spring

1:00pm

Touch Junior Blue Girls

Kearney's Spring

1:45pm

Touch Junior White Girls (2)

Kearney's Spring

1:45pm

Cricket Senior Girls

Glenvale

Captain Cook

1

1:00pm

Cricket Junior Girls

Fairholme

Captain Cook

6

1:00pm

AFL Junior A Boys

Glenvale SS

Queen's Park

QP2

1:00pm

AFL Senior A Boys

Harlaxton SS

Queen's Park

QP2

1:45pm

Hockey Junior B Boys

St. Mary's College

Clyde Park

2

1:00pm

Hockey Senior B Boys

TAS

Clyde Park

2

1:45pm
Week 5

26/02/21

SPORT

OPPOSITION

VENUE

COURT/
FIELD

TIME

Touch Senior A Girls

Kearney's Spring

1:45pm

Touch Senior Navy Girls

Kearney's Spring

1:00pm

Touch Senior Sky Girls (2)

Kearney's Spring

1:00pm

Touch Junior A Girls

Kearney's Spring

1:00pm

Touch Junior Blue Girls

Kearney's Spring

1:45pm

Touch Junior White Girls (2)

Kearney's Spring

1:45pm

Cricket Senior Girls

Wilsonton

Captain Cook

1

1:00pm

Cricket Junior Girls

Darling Heights

Captain Cook

6

1:00pm

AFL Junior A Boys

Rangeville SS

Queen's Park

QP3

1:00pm

AFL Senior A Boys

St. Mary's College

Queen's Park

QP3

1:45pm

Hockey Junior B Boys

Glenvale SS

Clyde Park

3

1:00pm

Hockey Senior B Boys

East SS

Clyde Park

1

1:45pm
NB: Should adult members of the community wish to attend an event at a public space, i.e. Friday Sport venues, they must ensure that they maintain appropriate social distance and do not join the team.
Cross Country
The Our Lady of Lourdes Cross Country Carnival will be held on Tuesday 30th March at Newtown Park. In preparation for this event, we will be running a cross country training program, as below:
Who:

Children in grade 3-6 ONLY

Due to teacher/student ratios, children in grades P-2 are not permitted to attend.

When:

Wednesday & Friday Mornings – Starting Wednesday 17th February 2021 and concluding on Friday 26th March 2021.

Time:

7:30am Sharp

Where:

Rose Garden – Newtown Park

What to Bring:

Water Bottle, Hat & Asthma Puffers if required.

Students can wear their sports uniform for the entire day.
PLEASE NOTE – STUDENTS ARE TO BE DROPPED OFF AT THE PARK AT 7:30AM.
PLEASE ENSURE THAT YOU WALK YOUR CHILDREN TO THE MEETING PLACE AND CHECK THEM IN WITH THE STAFF MEMBER PRESENT.
FOLLOWING TRAINING WE WILL WALK BACK TO SCHOOL AS A GROUP.
IMPORTANT: As part of the risk assessment process for Cross Country Running, all students that run the competitive track must participate in a training program. Students can complete this at our school training sessions or individually outside of school. ALL STUDENTS wishing to run the competitive track must also have a SIGNED CONSENT form. These will be sent home with interested students.
Representative Sport—Toowoomba & Darling Downs Teams
Throughout the course of the year Toowoomba Primary School Sport and Darling Downs School Sport offer trials to eligible students for a variety of team and individual sports. To be eligible for selection, students need to be born in 2011, 2010 or 2009. Strict nomination requirements apply, and it is at the sole discretion of the school to decide whether to nominate individual students.
In order to gain interest levels and an idea of previous experience, a representative Sport Nomination Form will go home this week. This form outlines all relevant information regarding the trials for the whole of 2021. Please thoroughly read all information. If your child is of a high standard in their chosen sport/s and would like to be considered for nomination, please complete the nomination form and return to Ms. Salisbury ASAP. No student will be nominated for a trial without a completed form.
Rachel.Salisbury@twb.catholic.edu.au
Reading Aloud to Kids...
The research is clear and the evidence is abundant. Reading aloud with children matters. Make a little time each day to read aloud to your child and have them read aloud to you – no matter what their age! Just look at some of the benefits in this infographic illustrated by Jarrett Lerner.
Library Bags
Please remember that students must have a NAMED library bag to place their loans in to ensure safe travel between home and school. A school satchel is also acceptable.
Typing Tournament
Each student in Year 2 – 6 has access to Typing Tournament. This online program teaches students how to touch type in a sequential, self-paced way. Correct typing techniques and quick, accurate typing skills are essential skills that students will use throughout their lives. Make use of this excellent resource as part of your weekly homework time or as part of your child's screen time. Check with your child or their teacher for their username and password. If you have TT issues, please email Mrs Leathart.
TRC Library Service Survey
Do you visit the Toowoomba Library or other Library services in our local district? You may like to have your say in a survey running during February. The City Library hours were severely restricted during the Covid Lockdown in 2020 and the hours of operation have not been restored. This has impacted many of us as our lives returned to our new 'normal'. The survey on the Library services is during the month of February ONLY. It's available online here or as hard copy from the Library. Get involved and have your say on this local issue.
Tech Club
Each Monday afternoon a group of 25 Tech Club students meet in the Library to uncover and discover a range of Tech tools. Here are some photographs of our first session together in Week 3.
CHESS News
Chess lessons have commenced. We meet each Tuesday morning from 7:45am in the Lourdes Library. All welcome. Get a permission form from Mrs Leathart in the Library if you are interested.
Book Club
Book Club orders have now been placed. We expect delivery within a fortnight. When books arrive, we will pass them on to your child's teacher for distribution. For any issues with Book Club please contact: Danielle.Leathart@twb.catholic.edu.au
AV RESOURCES – IMPORTANT!!! Action Required
There are a number of new and existing resources that have been purchased and made available for our students at the beginning of this year. These resources are available for Grades 1-6. Amongst these resources are DVDs and audio books on CD that are able to be borrowed by students. The possible replacement cost if they are damaged or lost ranges from $10 up to $50, depending on the purchase price. Due to this if you feel that your child/ren DO NOT need to access the DVDs or audio books please email Danielle.Leathart@twb.catholic.edu.au no later than February 20th, 2021. After this date we will assume you have given permission to borrow from these collections. Use the Subject Line: NO AV Resources and list the names of your child or children in the body of the email.
***Please ensure you discuss your decision with your child/ren so they know what they can or cannot borrow.
Senior Fiction Permission Notes
Thank-you to those students who have already returned their forms. Forms were dur on Monday 15th February. If we do not have a form we will assume that permission is NOT granted and you will be unable to borrow from Senior Fiction. Lost form? No form? Email Danielle.Leathart@twb.catholic.edu.au for a copy.
Looking forward to seeing you in the Library soon.
Mrs Leathart & Mrs Monte
Choir 2021
Students from grades 3, 4, 5 and 6 are invited to come along to choir on Wednesday 2nd break at 1pm in the Music Room. If you enjoy singing I encouraged to come along and give it a go. As attendance numbers are fluctuating from week to week – it has been decided that the sign up note will be handed out in upcoming weeks. Any questions, please contact Mrs. Rosier ebony.rosier@twb.catholic.edu.au
We look forward to a great year of singing!
Ebony Rosier
Little Miracles Community Kindergarten
We have started the year strong with lots of new families joining our community. One of our classes has already filled up, and the others have limited vacancies, so if you are considering enrolling now that the older children are back at school, it would be best to contact us ASAP on: little.miracles@bigpond.com
Limited Vacancies
Kindy – Monday, Tuesday every second Wednesday 8.15am – 2.30pm
Kindy – Thursday, Friday every second Wednesday 8.15am – 2.30pm
Junior Kindy (from 3 years) – Thursday & Friday 8.30am – 2.30pm
Before and After Kindy Care available