Our Lady of Lourdes Newsletter, Term 2 Week 9 - 17 June 2020
Filter Content
Our Lady of Lourdes Newsletter, Term 2 Week 9 - 17 June 2020
Well, how did you go? Did you manage to survive this crazy term reasonably unscathed from the pressures of remote learning, illness, tiredness, homework battles, strained relationships between friends, assessment deadlines and just getting up on these recent cold mornings? If you can still manage a smile and have enough motivation to get and get things done, you have done very well.
From my many years of experience, generally I have found that Term 2, due to the above mentioned reasons, is the hardest quarter of the year to manage, especially for parents. Schools are about people and when people, especially our children start to wear down at the half way mark of the year and tolerance levels fall and what classmates say or do can seem far worse than if they were said at the beginning of the year.
It is also the time of the year when school and school work can seem to become a bit of a drag for some young people. At times like these, as the important adults in their lives, we need to spend time explaining to our children that there will always be ups and downs and homework won't go on forever. There will be times when things don't go as well as we would like and other times when things are great. It is important that we train our minds and those of our children to focus on the positives. Too much time spent on the negative aspects of life will drag everyone down. But let us not forget that most progress occurs when we work out something is not going as well as it could and we change it. Those changes, I hope will keep occurring.
Working together is the key. I really do appreciate the support our teachers receive from parents. Once children know that there is a common message from both school and home they soon get the idea that characteristics like, respect, resilience, care for others etc. are important traits in life.
I have mentioned in previous newsletters over the years, well known Educational and parenting specialist, Dr. John Irvine and some of you may have read his columns in various newspapers. In an article a couple of years ago in the Chronicle, he highlighted the need for parents to be supportive of teachers in front of their children. Not much different really than how important it is for parents to be united in their parenting. In the article, he pointed out that schools can be pretty different places to the experience parents had of school. Parents need to be wary of having their view of their child's school coloured by their own experience or what they may see or hear in the media. He went on to say that good schools are welcoming schools where parents are able to contact teachers or the Principal if necessary. There are easy to follow common sense processes to assist when problems arise. From the feedback received throughout the year, OLOL is a great example of this.
I hope that every member of the school community will always feel comfortable in approaching someone at the school if they are experiencing a problem. The staff here at Lourdes are not only experienced educators but most are experienced parents as well and more than often have encountered those life problems time after time. We have also a substantial support network within the Toowoomba Catholic Schools system which provide specialist support when required.
I have come across very few problems that are solved by doing nothing and hoping that they might go away. There aren't many things that can't be resolved if all parties are prepared to listen to another point of view and be open minded. All of us look at life through a particular lens of our particular experience. Sometimes we need to look at things through a different lens. I love parents who support their children in all they do. Experience would tell me though, that it is not uncommon that children relate to parents the summary of facts they think they need to know.
They might not tell lies, but young people are prone to give a particular version of an event. In all cases, if we are concerned by something we have heard and we approach the relevant person it is often good to start with a line like…." Just want to check with you if I have all the facts." Better solutions will follow.
Problems are a part of life. There will be misunderstandings, adults & children will make mistakes, things will be overlooked, however if people follow the following steps when problems arise we will achieve better outcomes.
Address issues at the earliest opportunity

At the lowest possible level, i.e. avoid going over people's head, especially with minor issues

With the most appropriate or relevant person

In the most informal and confidential manner possible
One of the things I enjoy at Lourdes is the level of support I have found from parents here. Almost without fail, parents want the best for their children and realize that the staff do as well and are highly supportive of the efforts the staff make on behalf of their children. As this is the last newsletter for the term, I would like to take this opportunity to thank both the staff and parents for your efforts during this very unique and demanding term.
School Fees
Our migration to forwarding home school fee invoices and statements from monthly to quarterly and from hard copy to digital has met a couple of glitches. My apologies for any problems this has caused. We hopefully have identified and rectified these issues and as a result, school fee invoices will be reissued this week. Please do not hesitate to contact the office if you notice any discrepancies.
Free Dress Day
Tomorrow is "Favourite Footy Colours Day". Students may wear their favourite footy jersey or team colours (as long as it's maroon !!) along to school tomorrow. A gold coin donation will apply. All funds raised will go towards Project Compassion. $50 charge applies for any NSW jerseys worn on the day!!
Contact Details
A big request for parents to notify the school of any changes to your family's contact, health, workplace etc. details. It is vitally important that we have up to date information, especially in case of emergencies. Emailing any such changes to lourdes@twb.catholic.edu.au will be greatly appreciated.
Report Cards
As per our normal practice, Semester One report cards will be forwarded home in the second week of Term 3. Due to the effects of COVID-19, this semesters report card will be slightly different. The only subject areas that will be reported on are English, Maths, RE, Science and HAAS. Teachers as usual will make judgments on evidence gathered over the semester. The disruption of routine due to the period of remote learning has provided teachers with a number of challenges. You will also notice a slight change in the explanation of the different A-E gradings from previous years. The purpose of the change was to provide greater clarity for parents and teachers in regards to what actually constitutes an A, B, C etc. For further information, please take the time to read the Teaching & Learning News in this newsletter.
Thank you for reading and I trust you will all enjoy a well-deserved break and I look forward to your safe return in Term 3 on Monday 13th July.
Chris
It is hard to believe the end of term is nearing and this is the last newsletter for the term. I would like to take this opportunity to thank all our families, teachers, support staff and students for ensuring the teaching and learning continued through an extraordinary term. For all of us, the adjustment to at home, flexible and online modes of learning have been trying at times, but also remarkable. Undoubtedly, there are many positives to come from a new way of doing things.
Our teachers certainly exceeded expectations to collectively adjust to technology, learn new techniques and challenge themselves to ensure our students continued to be engaged and supported to learn. Adapting to using technology to enhance teaching and learning is certainly one positive outcome, as teachers are continuing to use many of the platforms and modes of delivery for instruction now that all students have returned. Teachers have also been busy assessing where students are at with their learning and ensuring students are continuing to be Lourdes Learners.
Report cards for Semester One each year are based on learning that has occurred in Term One and Term Two and report on student achievement for the first half of the year. Report cards for Semester One 2020 are modified to reflect the changed learning conditions for Term Two. Assessments and judgements from Term One, in all learning areas, form a significant part of this semester's report.
The changed circumstances of the first half of Term Two may mean that not all learning areas have been fully covered or assessed as planned. The Learning areas that are being assessed this semester are English, Mathematics, Science, Humanities and Social Sciences and Religion. All report cards will include an English, Mathematics and General Comment.
Please take into account that the grades your child(ren) receive are reflective of the unforeseen circumstances we had during the term. The use of the rating 'N' indicates that not enough information was available to make a judgement at this time. If you have any questions regarding the Report card for Semester One 2020, please contact your child's teacher.
The following table provides an explanation of the new A-E reporting scale going forward.
I hope everyone has a wonderful and restful holiday. Looking forward to seeing everyone again in Term Three.
Thanks for reading,
Miranda
Faith & Religious Education News
First Reconciliation
Candidates needed to have their information into the school office today Wednesday 17th June. If you missed this deadline, please get your information to Mrs Moore ASAP. Remember to include your information, $25 (to be paid on your account), baptism certificate and photo. If you didn't receive a Reconciliation Package or know of children who wish to be part of our preparation, please contact the school office or email Janice.Moore@twb.catholic.edu.au We are now going ahead with the Reconciliation dates as set in the School Calendar - with a couple of Logistical changes. Our first meeting will be on Wednesday 22/7/2020 at 3:30 pm in the School Hall. As Social Distancing at this time will only allow a gathering of 100 people – we ask that just one adult representative and the Reconciliation Candidate come along. The meeting will be an organisation of Family Groups, book collection and data checking. Thank you to those who have volunteered to be a group leader. Our second meeting will be Wednesday 5/8/2020 at 3:30 pm in the school hall and Our Reconciliation ceremony is set for Wednesday 9/9/2020 - format, venue and time are yet to be decided.
Confirmation and First Eucharist
Groups can now restart – We do appreciate your patience with this preparation time frame. Our 2nd meeting will be on Wednesday 19/8/2020 in the school hall. Our Plan is to hold 4 combined Confirmation and Communion Ceremonies for 10 children at a time in October. This will comply with the social distancing recommendation of 80 people in the church. Families will be limited to 8 guests – including the child who is participating in the Sacraments. Father Quinlan will perform both Sacraments in the one ceremony. The planned dates are Tuesday 13/10/2020, Thursday 15/10/2020, Tuesday 20/10/2020 and Thursday 22/10/2020. All Ceremonies will start at 7 pm. Children can wear their special First Communion outfits. Parents may act as "proxy sponsors" if Godparents are unavailable. If you have any questions or concerns – please contact Janice Moore on Janice.Moore@twb.catholic.edu.au
Please remember to find your favourite sporting team jersey to wear with your sun safe coloured clothes for tomorrow (18/6/2019) "Footy Colours" Coloured Clothes. We will be collecting a gold coin donation for our school charities – St Vincent de Paul, Caritas and Catholic Mission.
Important RE Dates for your Diary
Thursday 18th June – Gold Coin Coloured Clothes Day for the Missions – Wear your favourite sports Jersey.
Friday 26th June – Pupil Free Day
Term 3
Wednesday 22nd July – Initial Parent Meeting for the Sacrament of Reconciliation Preparation – 3:30 pm School Hall (Year 3+)
Friday 31st July – Bishop's In-service Pupil Free Day
Wednesday 5th August - 2nd Parent Meeting for Sacrament of Reconciliation Preparation – 3:30 pm School Hall (Year 3+)
Wednesday 19th August - Restart date for Preparation for Confirmation and First Eucharist 2020 - 3:30 pm – School Hall.
Wednesday 9th September – Sacrament of Reconciliation – Time and Venue to be advised
Prep
Welcome to Week 9. It is hard to believe we are nearly at the end of the Semester. The Preps have been working extremely hard completing their assessment pieces. It is wonderful to see the progress the students have made.
Also, a big well done to students (and their families) on the completion of homework throughout the Semester. The revision of these concepts at home assists in greater understanding. The completion of homework also establishes good routines, learning behaviours and organisation. It also provides an opportunity for parents to discuss learnings with children. Over the holidays please don't forget to keep reading, reading and reading. "If you don't use it, you lose it!" We are also sending home a holiday journal. Please complete these and return them to school on the first day of Term 3.
Please ensure your child starts each day with a jumper that is clearly named.
A couple of reminders:
Thursday 18th June – Wear your favourite footy colours to school – Gold Coin Donation
Thursday 25th June – Bring along an object to share with the class that begins with a letter we have learnt this Semester.
Friday 26th June – Pupil Free Day
Have a safe and happy holiday. Thanks for a great term.
Liz and Melita
Preps Very Own Champion Marathon Runners, receiving their awards.
Year 1
Welcome to week 9! Learning in Grade 1 continues to be busy. Students are very excited to be 'going shopping' for their Zen Garden materials this Thursday. They have been busy designing the best possible plan. Thank you to all the parents who have offered to help out at our Zen Garden shop this week.
Students completed writing their poem last week on rhyming couplets. We are very proud of the efforts put into their writing. Writing poetry is a tricky concept for grade 1 and although many were in the learning pit, needing extra scaffolding, student persisted and showed us some wonderful Lourdes Learning.
This week in mathematics, we are learning how to solve simple addition and subtraction using counting strategies. Strategies students will explore are rainbow fact and missing addends.
Students are super excited about having tennis lessons on Tuesdays for weeks 9 and 10. Thank you Mrs Salisbury for the opportunity and for our wonderful parent helpers who are giving up their time to assist.
Jen and Ange
Year 1 Shapes
Year 2
Welcome to week 9! It is hard to believe that we are at the end of the term. We have certainly had some unusual circumstances this term. We feel blessed that we are all back together and that the last few weeks have gone so smoothly!
This week we are revising many concepts as well as continuing to brush up on our writing skills, particularly sentence construction. Our use of punctuation has improved remarkably, and we are experimenting with some wonderful adjectives. We have studied the structure of fairy tales and we are now having a go at writing a recount of a chosen fairy tale.
In Science we have been exploring pushes and pulls and how forces act on the ground, in the air and water. We have explored the effects of gravity and have learnt how both air and water 'push'.
Next Wednesday 24th of June we will be walking to Newtown Park for morning tea and a play. We will leave at 9am weather permitting. Please ensure your child has a generous morning tea and a water bottle. A reminder to bring jackets and hats.
Don't forget that next Friday is a pupil free day!
Remember to wear footy colours tomorrow and bring a gold coin donation to help those in need.
Thanks again for your amazing support throughout this unusual term. Have a wonderful break!
Aleisha, Megan, Allyson, Dennielle and Sarah
Year 3
It's only a week and half till the June/July Winter holidays – how did this happen? We can't believe how quickly Term 2 has flown by and we are all very busy completing our end of term assessments.
In Maths and English, we have been spending time revising what we have learnt this semester, to consolidate our knowledge. In Religion, we have been looking at the Sacraments and are learning about the Sacrament of Reconciliation in preparation for some of us to receive our 1st Reconciliation next term. If you are wishing to participate in the preparation for the Sacrament of Reconciliation – please make sure you have brought in your information sheet ASAP. The first meeting for Reconciliation preparation will be on Wednesday 22/7/2020 in the school hall at 3:30 pm. We ask that only one adult and the Reconciliation candidate attend the meeting.
Tomorrow we have our "Favourite Footy Colours" Free Dress Day – remember to bring a gold coin to donate to our Catholic Charities. A reminder that Friday 26/6/2020 is a Pupil Free day!
As this is the final newsletter for Term 2, we would like to take the opportunity to thank everyone for their support this term – it's certainly been a rollercoaster ride! In Semester 2 we will have 3 Year 3 classes and we welcome Mr Mollison back to teach our newly formed class.
Have a wonderful mid semester break! Report cards will be distributed early in next term. Remember to keep up your reading, stay healthy, keep warm and we look forward to seeing you in Term 3!
Kind regards
Angela, Annie and Janice
Year 4
As the term draws to an end all classes are busy finalising units of work and completing assessment. This is an important time to be focussed in class and to be well-prepared each day. A healthy breakfast and lunch are important.
Report cards will be given out after the June/July holidays.
Don't forget to return on Discuss notes for Mrs Salisbury as soon as possible.
Congratulations to all students who have successfully completed their Science PowerPoints. There have been many well-researched topics and excellent presentations. We are often amazed by the ability of the children when working independently and on topics of interest. They have so much to offer.
Tomorrow we have our "Favourite Footy Colours" Free Dress Day – remember to bring a gold coin to donate to our Catholic Charities. A reminder also that Friday 26/6/2020 is a Pupil Free day! 
As this is our last newsletter, we thank you all for your support and also take the opportunity to thank Mr Worthington for his work with 4W over the last semester and wish him well at his new school.
Thanks for reading.
Garry, Suzanne and Michael
Year 5
Welcome to the last two weeks of Term 2, a very busy time with assessments and finishing off tasks.
The students are continuing to push forward with their work and we can't wait to read their HaSS Historical Recounts. The students are choosing a character from the Gold Rush in the 1800's and telling the story of their lives. The research that the students are doing is wonderful and their efforts to date have been fantastic. The students will begin to write these towards the end of this week.
As part of our Religion unit, we are promoting Holy Spirit Moments, where we use the fruits of the Holy Spirit to live our lives. The students have been observing others in the playground and keeping a diary of these moments. It is a timely reminder of the way we treat each other and how we all have to take responsibility for our own behaviour. We hope to have a peaceful last couple of weeks.
For the remainder of the term, some maths classes will be modified with specific skills and concepts revised. After analysing results and speaking with the students, we have offered topics for the students to attend to support their learning. It is excellent that students are able to recognise where they are with their learning.
A few reminders before the end of the term. Firstly, there is NO more homework. Secondly, the discus consent form needs to be returned ASAP. Don't forget to wear your favourite footy clothes and bring your gold coin for the free dress day tomorrow.
Have a safe holidays and we look forward to seeing you all in Term 3.
All the best
Steve, Emily and Tim
Year 6
Week 9 already! What an eventful term! Students are reminded to wear their favourite footy colours for tomorrow's Free Dress Day and to bring a gold coin to donate to our Catholic Charities.
This being the final newsletter for Term 2, we wish you a happy winter's holiday with your children. We look forward to seeing the Year 6 students again in Term 3 to commence their final semester at Our lady of Lourdes.
Enjoy the attached photos of some of the students who wished to display their wonderful art.
Thanks, Kylie and Larry
Year 6 Artwork
German
The students have worked well this term. Next term we will be having lessons in the classrooms. German books are not to go home until the end of term 4. This week we will be doing a German word search and next term we will begin learning about school items and the classroom.
Christine Fisher
The Learning Hub has been busy with many visitors from different year levels. If you would like to visit the Book Exchange, out the front of the Hub, please come before or after school. We have many different types of interesting books you can choose from, and if you love the book, you can keep it!
Below is an article about Dyslexia. Dyslexia is a learning difficulty that can impact the way in which a person learns. Have a great week 9 and enjoy a happy and safe Winter holiday.
Kate Tague
Dyslexia Basics
By: International Dyslexia Association
What is dyslexia?
Dyslexia is a language-based learning disability. Dyslexia refers to a cluster of symptoms, which result in people having difficulties with specific language skills, particularly reading. Students with dyslexia usually experience difficulties with other language skills such as spelling, writing, and pronouncing words. Dyslexia affects individuals throughout their lives; however, its impact can change at different stages in a person's life. It is referred to as a learning disability because dyslexia can make it very difficult for a student to succeed academically in the typical instructional environment, and in its more severe forms, will qualify a student for special education, special accommodations, or extra support services.
What causes dyslexia?
The exact causes of dyslexia are still not completely clear, but anatomical and brain imagery studies show differences in the way the brain of a dyslexic person develops and functions. Moreover, most people with dyslexia have been found to have problems with identifying the separate speech sounds within a word and/or learning how letters represent those sounds, a key factor in their reading difficulties. Dyslexia is not due to either lack of intelligence or desire to learn; with appropriate teaching methods, students with dyslexia can learn successfully.
Dyslexia occurs in people of all backgrounds and intellectual levels. People who are very bright can be dyslexic. They are often capable or even gifted in areas that do not require strong language skills, such as art, computer science, design, drama, electronics, math, mechanics, music, physics, sales, and sports.
In addition, dyslexia can run in families; dyslexic parents are very likely to have children who are dyslexic. Some people are identified as dyslexic early in their lives, but for others, their dyslexia goes unidentified until they get older.
What are the effects of dyslexia?
The impact that dyslexia has is different for each person and depends on the severity of the condition and the effectiveness of instruction or remediation. The core difficulty is with word recognition and reading fluency, spelling, and writing. Some people with dyslexia manage to learn early reading and spelling tasks, especially with excellent instruction, but later experience their most debilitating problems when more complex language skills are required, such as grammar, understanding textbook material, and writing essays.
People with dyslexia can also have problems with spoken language, even after they have been exposed to good language models in their homes and good language instruction in school. They may find it difficult to express themselves clearly, or to fully comprehend what others mean when they speak. Such language problems are often difficult to recognize, but they can lead to major problems in school, in the workplace, and in relating to other people. The effects of dyslexia can reach well beyond the classroom.
Dyslexia can also affect a person's self-image. Students with dyslexia often end up feeling "dumb" and less capable than they actually are.
What are the signs of dyslexia?
The problems displayed by individuals with dyslexia involve difficulties in acquiring and using written language. It is a myth that dyslexic individuals "read backwards," although spelling can look quite jumbled at times because students have trouble remembering letter symbols for sounds and forming memories for words. Other problems that can be experienced by people with dyslexia include the following:
Learning to speak
Learning letters and their sounds
Organizing written and spoken language
Memorizing number facts
Reading quickly enough to comprehend
Persisting with and comprehending longer reading assignments
Spelling
Learning a foreign language
Correctly doing math operations
Not all students who have difficulties with these skills are dyslexic. Formal testing is the only way to confirm a diagnosis of suspected dyslexia.
The term has flown by, with the partial shutdown of classroom learning and the new online learning for the first 5 weeks.
I was happy to be able to offer lunch only options for the kids during this time, of course only with limited options, but now that we are back in the full swing of things the menu for term 3 will change.
I am always open to feedback on which meals the kids do or do not enjoy.
The Tuckshop is always in need of Volunteers on a Friday between the hours of 8.15am- 1.30pm, and bakers to donate pikelets each week.
If you are interested in trying something new in 2020 and meeting new people, please think about joining as a volunteer. We have a roster system in place so we can aim to mix it up and not tire the same volunteers each week. We definitely need some more regular volunteers to add to the list.
Contact Teagan Harch 0434 701 559 alternatively teaganharch@gmail.com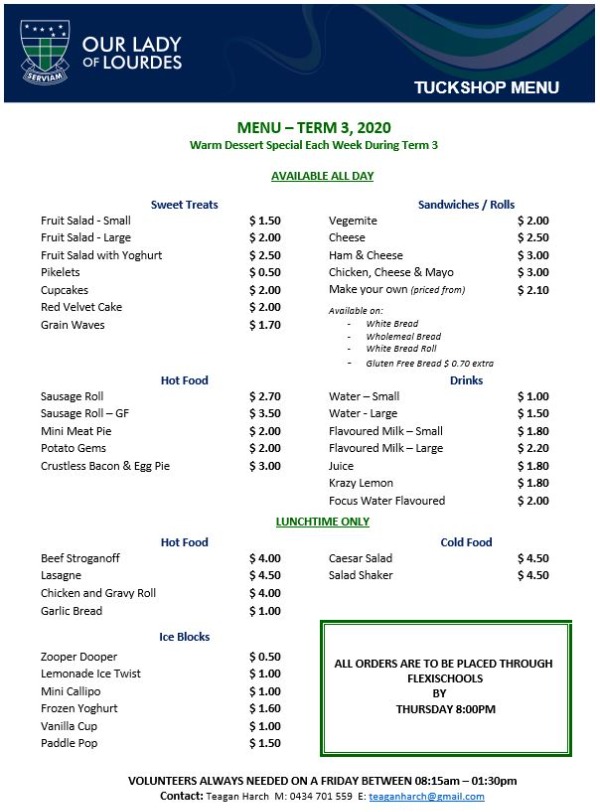 A reminder please, for all Drama Club students in Years 5 and 6 to bring their costumes in tomorrow (Thursday 18th June).
Thank you
Mrs McVeigh